Fine Food, Fine Wine & Fine People
Come and join us, we can't wait to see you.
Call 01642 961402
Book Online Now

Online Booking Now available. Just use 'Make A Booking' below:
News & Events
The team at the Crathorne Arms are a creative bunch. We like nothing more than organising events to entertain and delight our customers.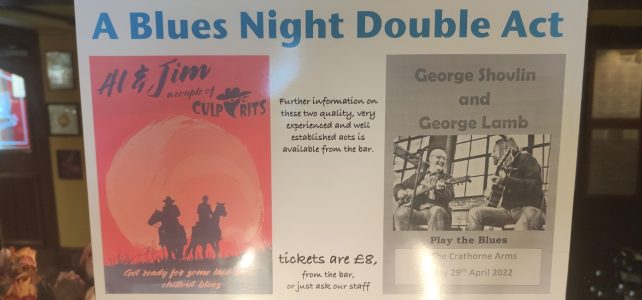 Thursday 15th December 2022 Start at Crathorne join from 6.30pm for carols with Northallerton Silver Band and Yarm School Choir followed by procession to the Crathorne Arms for more Carols Around The Christmas Tree. Tickets: Adults £12.50 Children £5 (up… ...
Read more

A Fabulous Selection Of Fine Wine And Real Ale Eugene has many years of experience in fine wines & beverages. He carefully selects all the wines we serve here at The Crathorne Arms. If you fancy trying something new have a chat… ...
Read more
The Crathorne Arms is a great pub in a wonderful community spirited village, lovely people, Lord Crathorne himself couldn't be more supportive, how lucky we are.
Our life has come a full circle from a town pub in Middlesbrough (well Eugene has) to the tontine (McCoys Hotel, Restaurant and Bistro) to a village pub in Crathorne, Ten Minutes from Middlesbrough.
We live above the pub, our furniture and furnishings live downstairs as they can't and won't fit up the stairs! So the canoe has the condiments, the bookcases our books, the huge sofa with big squashy cushions to sink into, tin lanterns reflecting patterns on the ceiling, this all makes for a homely feel and that's what we would like to create along with good wholesome food and drink.
The log fires, the characters in the bar; our farmers, cyclists, dogs, WI ladies, Anna all help to make a warm friendly atmosphere as you walk in.
Wear what you want, dress up, dress down. There's a separate drinking area at one end of the Building and a dining area with wooden tables at the other end. We also have a small section that can be a private eating area that can seat up to 14/16 in the dining area.
In addition there is a function room that doubles up as a private special occasion room or as a Music Room, who mentioned Kirk Reunions, Yes, We do good Old Days.
The courtyard at the back is a suntrap when the suns out with tables and umbrellas for the Al Fresco Dining.
Of Course the staff, front of house and kitchen are all great, hardworking, smiley, enthusiastic young people and a joy to work with.
We thank all the very many who have already been and supported us through our first six months. Heres to many more..........